IGP COLLINES RHODANIENNES - Red
Gamsy
Gamsy hails from hills in the Ardèche, with a sandy-gravelly soil composed of weathered granite. As the name suggests, this wine is associated with freedom and wide open spaces. Freedom in terms of the grape varieties planted, where we are able to combine the Syrah, the Queen of the Rhône Valley, with the Gamay. 60% of one and 40% of the other. This is an original combination resulting in an original wine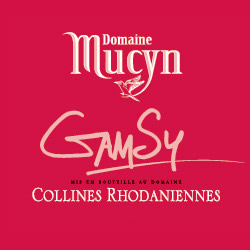 Tasting notes
Easy-to-drink and refreshing, Gamsy proudly displays its dense, crimson-flecked hue. Its intense nose offers up notes of tangy red fruit such as blackcurrants and redcurrants. It shows nice length on the palate with soft tannins and a lovely spicy finish. Best served between 14-16°C and enjoyed when young with a platter of charcuterie or light cheeses. It is also great for a barbecue.
Viticulture
An original and delectable blend, Gamsy comes from vines that are already 25 years old. The terroirs sit astride two départements, the Gamay grows at 290 m on a granite hill in the Saint Joseph appellation in the Ardèche and the Syrah grows in an alluvial soil in the Drome. The planting density is lower than in the rest of the domaine, 5,000 feet / ha with the yield maintained at 50 hl / ha. The wine growing methods used for the AOCs are also used on these IGP plots, whose charming designation is a reference to the hills that shape the landscape of the banks of the Rhône. We harvest by hand, as we do in the AOCs, usually around the time of the September equinox.
Vinification
The grapes are de-stemmed but are not crushed. They then undergo a cold pre-fermentation maceration, before a period of fermentation which lasts for 11 days during which time we regularly carry out pumping over operations. Gamsy is aged in vat in order to bring out its fresh, fruity character.