SAINT-JOSEPH - White
Les Carats
Because white Saint-Josephs are precious and rare, this wine deserved a special name. The word carat is borrowed from the measurement of metals and precious stones as well as the jargon used by the Rhône boatmen. In the case of the latter, it refers to the profits from the transport received by the crew members.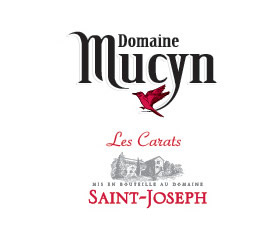 Tasting notes
The clean, pale gold hue with yellow highlights already gives this wine a valuable appearance. A bouquet of white flowers, including acacia and jasmine, emerges on the nose. Then come the aromas of honey, buttery almond and even "abricotine", the apricot brandy produced in our region. The palate is rich and generous, showing plenty of freshness and a long finish. Les Carats, our white Saint- Joseph, is certainly appetizing, in other words, it whets the appetite, preparing us for the food to come. You can enjoy it in its first two years or leave it in the cellar for about five years. Best served at 10°C as an aperitif, accompanied by Ardèche cheeses such as Picodon or Saint-Felicien. It also pairs wonderfully well with freshwater or sea fish, Chicken Supreme or ravioli from Romans (truffle ravioli are even better!).
La vigne
Les Carats, a 100% Roussanne Saint-Joseph, comes from vines of around ten years of age. The terroir is located at 310 m on the south-facing granite slopes in the heart of the Saint-Joseph appellation. The soil is made up of schist and gneiss. The planting density is 6,000 vines / ha. Domaine Mucyn keeps the yields at 40Hl / ha. Harvesting usually takes place in the second half of September. The grapes are picked by hand, as they are for all our wines.
Vinification
After a pneumatic pressing followed by a light settling using gravity for 48 hours, the must starts to ferment. Jean-Pierre Mucyn ferments 20% of the must at 16°C in barrels. The remainder is fermented in vats. The wine is regularly stirred (bâtonnage) during its 9 months ageing on the lees, partly in barrels and partly in vats.