CROZES HERMITAGE - White
Les Charmeuses
Charming Roussanne, Charming Marsanne, Charming Hélène, and three Charming Mucyn daughters. With this wine, Jean-Pierre pays tribute to the women in his life! And when you try this white Crozes- Hermitage, it will no doubt charm you too ...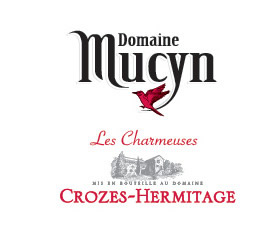 Tasting notes
Les Charmeuses has a pale golden yellow hue flecked with light green tints and offers up subtle aromas of white flowers, such as gentian, and fresh fruits, such as apricots, and even candied fruit, complemented by toasted notes. The wine reveals a powerful expression on the palate. Although it is well structured, it shows a perfect balance with a long finish. Although drinking nicely now, it can also be kept back for a few years. Best served at 10°C, paired with freshwater fish in a sauce, such as zander with dill, pike with white butter or trout with almonds. Sea scallops, however prepared, are an excellent match. Goat's cheese is another nice option.
Viticulture
The appellation's two white grape varieties go into the Les Charmeuses blend: Marsanne makes up the majority with 60% of the blend, complemented by Roussanne. The average age of the vines is 30 years. The vineyards are planted in sandy-clay loam soil on loess, located at 155 metres altitude, north of the Crozes-Hermitage appellation.
Planting density is 7,000 vines / ha. and the yield, 45 hl / ha. Harvesting is carried out by hand and usually takes place in the second week of September.
Vinification
Pneumatic pressing is followed by a light settling using gravity for 48 hours. Alcoholic fermentation then takes place with 20% of the must in barrels at 16°C and the remainder in vat. Regular bâtonnage (stirring) gives the wine extra richness. The wine is then aged for 9 months in barrels and vats.