SAINT-JOSEPH - Red
Les Salamandres
Silent and discreet, with a majestic shape and dazzling colours, salamanders are often found darting around our plots of Saint- Joseph planted on steep hillsides where the vineyard work is intense. Since ancient times, this intriguing reptile has been said to have the gift of being resistant to fire. Its rich symbolism made it the emblem of François the 1st. We therefore decided to adopt salamander as the name for our 100% Syrah Saint-Joseph wine, whose intense aromas and velvety tannins will have you "burning with desire"!


---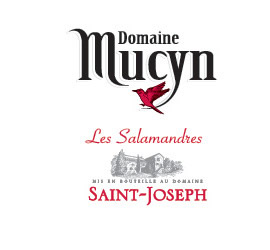 Tasting notes
Its dense ruby hue flecked with crimson and purple tints is delightful. Then comes the lush, candied, spicy and fruity nose with notes of blackberries, cassis, Morello cherries and cocoa. On the palate, the wine is meaty and balanced with structuring tannins of ripe grapes. This Saint-Joseph Les Salamandres will be at its best after 4-5 years cellar ageing. Ideally served at 16°C. Try it paired with game (roast venison, wild boar stew) or roast turkey. You can also enjoy it with fine charcuterie (Bayonne ham, Bellota or San Daniele).
Viticulture
The Syrah for Les Salamandres comes from vines of about thirty years of age, planted in a soil of schist and gneiss, and situated in the heart of the Saint-Joseph appellation. They are grown on posts (the individual trellising system typically used in the northern Rhône AOCs). The hillsides, which rise to almost 300 m in altitude, have a steep gradient making the vineyard work difficult. They are exposed to the rising sun, towards the Rhône. With a density of 7,000 vines / ha, the vines do, of course, have to be harvested by hand. Harvesting takes place in the second half of October, with yields of 40Hl / ha.
Vinification
The harvested grapes are destemmed but not crushed. After a cold pre-fermentation maceration, fermentation lasts for around 25 days maceration. Daily punching of the cap and temperature control allow a smooth extraction of the colouring matter and tannins. Les Salamandres is then aged for one year, 40% in barrels and the remainder in vats.