Welcome to Domaine Mucyn
Our 14 hectares of vineyards are made up of parcels in the Crozes -Hermitage, Saint-Joseph and Cornas AOCs. There are also a few acres of IGP (PGI) vines. The vineyards resemble an archipelago of little islands scattered over 25 km between Ozon and Pont de l'Isère. This dispersion has the advantage of creating a diversity of micro-terroirs. The art of wine blending consists of playing with the nuances offered by this mosaic of origins, resulting from the soils, exposures or the gradient of the plots.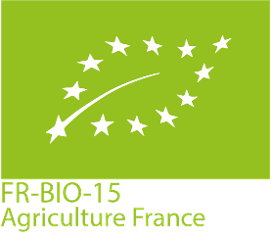 The decision to become wine producers
Hélène and Jean-Pierre Mucyn set up as wine producers in 2001. They "uprooted" from Champagne and laid down new roots on the banks of the River Rhône. With a change of career, and a radically different lifestyle and a new home for the entire family, the 2001 "vintage" is, for them, synonymous with a new impetus. After resuming studies in viticulture and oenology, Hélène and Jean-Pierre acquired their first "vin de pays" plots as well as a few hectares of orchards. Although the vineyard work is, literally, Héléne's domaine and Jean-Pierre handles the winemaking, they do nothing without the other.

Settled in this land of Hermitage, amid vineyards and apricot trees, the Mucyns fell in love with a 18th century building, on the legendary N7 that runs through the region. Situated 300 m from the River Rhône, this former "boat lodge", where boatmen used to lodge overnight and whose stables could accommodate over 80 horses, was built in around 1750. The cellar beneath the building provides ideal temperature and humidity conditions for the vinification of white wines. The vats have been housed in an old 400 m2 barn restored in the original architectural style. With its 50 cm thick granite stone walls and a roof restored to ensure perfect insulation, we can carry out vinification and ageing here with total piece of mind.

"So what are our values?
Love for the winemaker's craft;
A family's dedication to wine growing;
Commitment to AOCs whose excellence is universally recognized;
The respect of our terroirs by organic growing methode.

What is our goal?
To surprise and delight you with delectable wines,
creating an array of emotions, whenever and wherever you uncork one of our bottles."